While choosing the right hosting services is significant, the availability of a web hosting backup policy is a necessity. In order to host your website successfully, you need to acquire an effective backup policy with the best web hosting services. Therefore, it becomes essential for you to seek a web hosting company that provides you with the needed web hosting plan and at the same time, offers an excellent data backup policy.
Under this guide, you will get insights into different facets of web hosting backup policy. Also, we have highlighted a top-notch web hosting company that renders different types of Web hosting services coming with best-in-class facilities and an avant-garde backup policy – Hostbillo. But before we discuss anything else further, let us highlight the functioning as well as the significance of the web hosting backup policy.
What Does it Mean by Web Hosting Company's Backup Policy?
A web hosting backup policy is a type of service that your web hosting company provides to back up your website's data. You may discover that various web hosts typically offer excellent hardware for hosting your websites. Under this situation, there always lies the possibility of some or the other thing going in the wrong direction. For instance, you can accidentally erase the files or make incorrect modifications that you are not able to restore to their original versions. Therefore, the security and safety of your website's data depend upon the type and quality of web hosting backup policy provided by your web host with the hosting services.
Why Backup is Important in Web Hosting Services?
Below-mentioned listed are some crucial reasons why backup is essential for your website. Let's take a rapid glimpse at them!
Constructing a backup enables you to ensure the integrity of your website on the Internet by quickly restoring your site after any failure.
It helps you to acquire the trust of your website's users.
With the backup, you save a lot of money, time, and effort spent on growing your website.
The data backup also lets you assure the minimum downtime.
It further prevents the credibility and safety of your website's data.
The data backup policies also add value to the hosting service you purchase for your website.
How Many Backup Policies Come With Web Hosting Services?
Here are the most prevalent types of data backup policies that most web hosting companies provide while integrating some of them –
Full server backup
In This backup, your web hosting company backs up the entire data on your web hosting server and stores it in a different location.
Incremental file system backups
An incremental filesystem backup includes the backup of only files that get modified from the last backup.
Database-only backup
This backup incorporates the backup of your website's database.
On-site data backup
This type of backup resides within the same facility but on a separate physical device.
Off-site data backup
The off-site data backup keeps your website data backup at a separate facility.
Which Backup Policy Your Web Hosting Services Should Have?
The type of data backup policy you must attain with your web hosting services depends on multiple factors. To make this decision you must consider the following things –
Analyzing the existing and future objectives of your websites
Examining the storage of crucial data
Dissecting the budget for your website building and advancement
Assessing your technical expertise and the requirements for specialists support
Exploring the time you have to spend on data backup processes
Scrutinizing the level of data security your website needs
Reviewing the time and place where you are needed to maintain the website's backup
Which Company Offers The Best Web Hosting Services Backup Policy?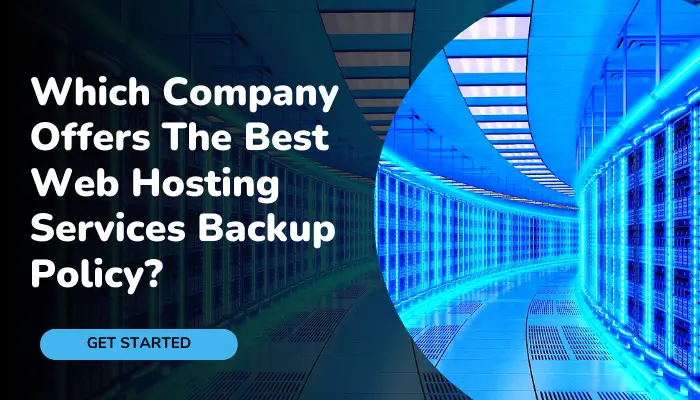 Hostbillo is the most trustworthy and highly renowned web hosting company that offers different types of web hosting services worldwide. It has earned many awards and gained recognition for accommodating the backup needs of numerous websites across the globe. The company is prominent and popular for rendering standard and automated top-grade web hosting backup policies. It also ensures the support of resilient system tools, top-tier infrastructure, and the most progressive technologies. This enables your website to deliver optimal performance. Further, you receive the following incredible hosting features with Cheap web hosting services –
The company offers 24/7/365 technical assistance via a team of proficient experts.
Your website obtains solid-state drives data storage and the most evolved data security measures.
Hostbillo enables your website to attain the highest network connectivity, unlimited bandwidth, and secure channels.
Your website also obtains the assurance of a 99.90% uptime network.
With all the web hosting plans & packages, the company renders service-level agreements and SSL certificates.
Final Words
Almost every web hosting company in today's time provides some kind of web hosting backup policy. Some of them may offer managed data backup schedules and others might let you do the website backup on your own. Both situations are fine until you are able to secure your website and its users' data.
On the other hand, you must ensure that your hosting company does not put extreme limits on what it backs up. Further, you can confidently reach out to Hostbillo web hosting company to acquire the best and cheap web hosting services with the most steadfast and efficient data backup facilities. The company also provides the assurance of round-the-clock customer assistance via experienced professionals. You may visit the official website of the hosting company to gather more details regarding the most promising web hosting backup policies.
There are many more things you should look into in your web hosting plan. To know more about that you can read : What to consider in cheap hosting plans?