Chinese technology titan OPPO has forayed into the mixed reality domain, signaling its intent to match strides with other tech powerhouses like Apple and Microsoft. During the Augmented World Expo (AWE) 2023, OPPO unveiled its latest MR Glass Developer Edition, a device designed to tap into the immense potential of XR technologies.
Powered by Qualcomm's advanced Snapdragon XR2+ chipset, the new mixed reality (MR) Glass Developer Edition showcases OPPO's ability to harness XR technologies. Xu Yi, director of XR technology at OPPO, shared that mixed reality has the potential to emerge as the new computing platform succeeding smartphones.
Features and Specifications:
Chipset: The headset is energized by the Snapdragon XR2+ chipset from Qualcomm, tailored for XR applications.
Display: The MR Glass sports a 120Hz refresh rate, enhancing the visual experience.
Optics: It boasts Binocular Video Pass-Through (VPT) technology via dual front RGB cameras and pancake lenses.
Design and Material: The headset features a standard form factor with skin-friendly materials, coupled with ringed controls in a matching white colorway.
Controllers: The device comes bundled with two joystick controllers, facilitating interactions with the mixed reality environment.
Battery: OPPO's proprietary SuperVOOC fast charging technology ensures that the headset stays powered up for extended periods.
Health Features: A heart rate monitor is also included, suggesting potential health and wellness applications.
Availability: Initially, the MR Glass will be available through the Snapdragon Spaces Developer program in China.
The mixed reality technology entails an amalgamation of both virtual reality and augmented reality (AR), wherein users can view digital images or videos superimposed over the real-world environment through a headset.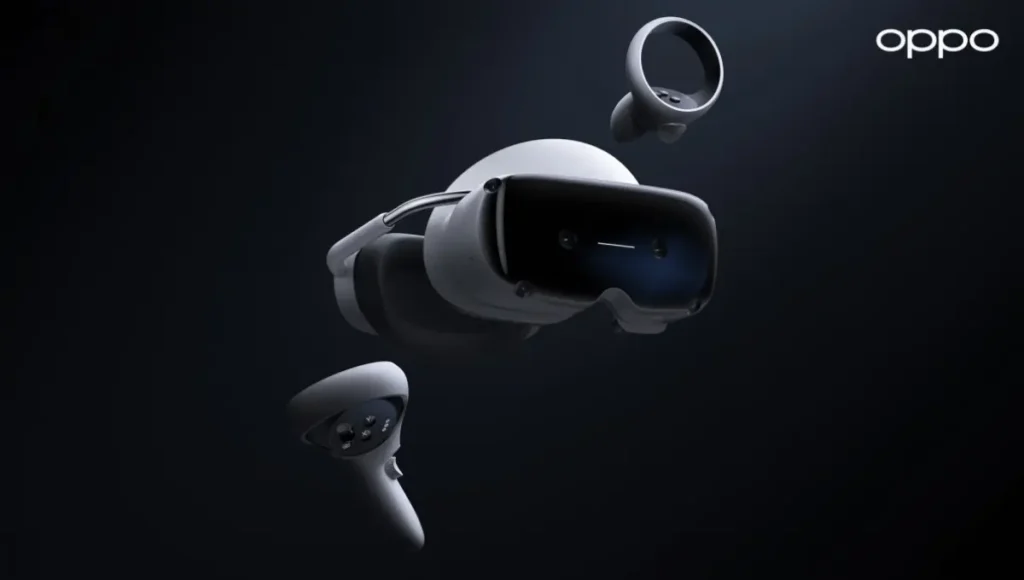 The MR Glass Developer Edition is notably more robust compared to OPPO's AR glasses, the Air Glass 2, launched last year. The new headset aims to lure developers to design apps and discover the most optimal uses for mixed reality technology. Although the device is set to be available for developers in China in the second half of 2023, there are no plans yet for commercial availability.
Global tech majors like Microsoft with its HoloLens, and Chinese firm Xiaomi with its AR headset, have already made notable strides in this space. Reports suggest that even Apple has been crafting its own headset, reinforcing the belief that mixed reality and AR are likely to be the next big thing in technology.