OpenAI has unveiled an exciting development for its popular chatbot, ChatGPT, by introducing a Canva plugin. This plugin revolutionizes the way users can create stunning visuals, including logos, banners, and more, making the process remarkably user-friendly. Here's a breakdown of the key features and how to utilize the Canva ChatGPT plugin:
Simplified Integration: To integrate Canva with ChatGPT, simply open the AI-powered chatbot in your web browser. Within the plugin section, navigate to the 'Plugin Store,' where you can find and install the Canva plugin effortlessly.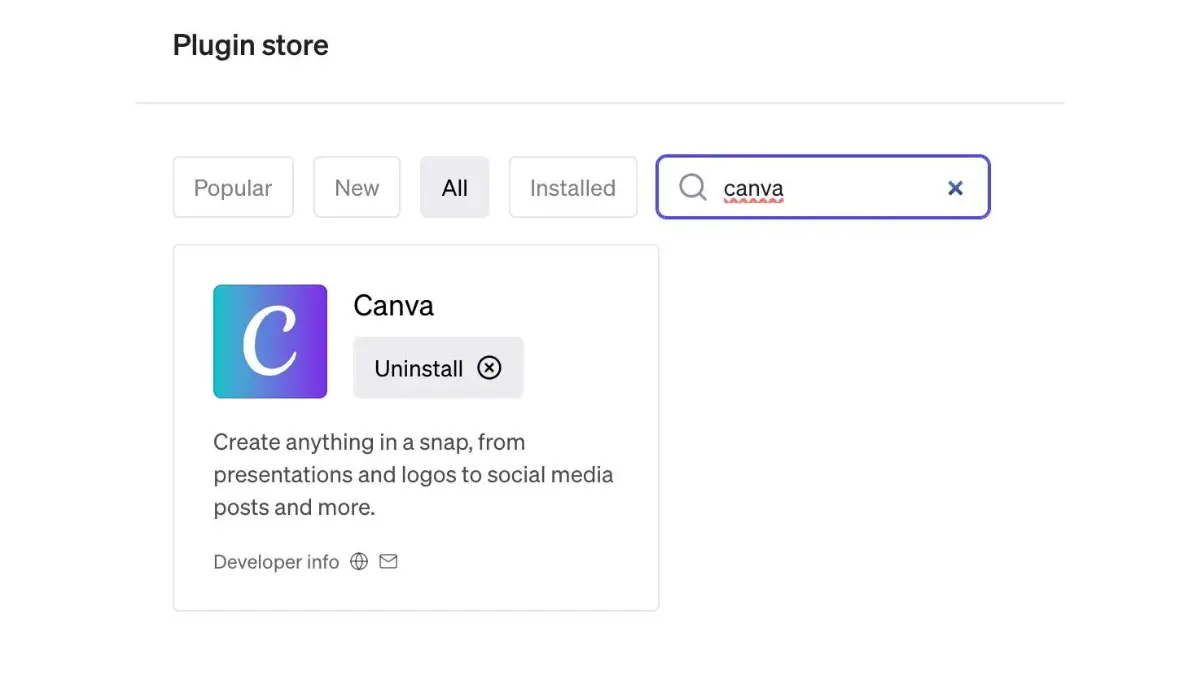 Effortless Visual Generation: Once the Canva plugin is installed, head over to ChatGPT's main window and select 'Canva' from the plugin section. This initiates the process of creating visuals with ease.
Seamless Prompting: In ChatGPT's prompt box, describe the visual you wish to create. For instance, you can instruct ChatGPT to design a banner with a prompt like 'I am a smartphone enthusiast active on Facebook. Create a banner for the same.' ChatGPT will promptly generate a list of visuals based on your description.
Customization and Download: From the list of visuals generated by ChatGPT, select the one that resonates with your vision. Click on the provided link, and you will be seamlessly redirected to Canva. Here, you can further customize and edit the AI-generated visual. To acquire your creation, simply tap the 'Share' button and choose 'Download.'
It's important to note that currently, this Canva plugin is exclusively available to ChatGPT Plus subscribers, priced at $20 per month. Subscribers gain access to the enhanced GPT-4 large language model, capable of assisting in creating long-form content and accepting images as input.
OpenAI's move to integrate Canva with ChatGPT aligns with its strategy to enhance the chatbot's capabilities, making it a versatile tool for diverse user needs. In a competitive AI landscape, OpenAI continues to expand ChatGPT's functionalities to stay at the forefront. Despite the challenges posed by formidable competitors such as Claude AI and Google's Bard, OpenAI remains committed to delivering value to its users.
This Canva plugin not only simplifies visual design but also signifies a step toward OpenAI's goal of making GPT-4 multimodal. It's a significant milestone in empowering users to create captivating visuals effortlessly, marking a pivotal moment in AI-driven content creation.