What is MetaMask?
If you are a crypto investor, you must be familiar with Metamask- a leading cryptocurrency wallet that interacts with decentralized applications, or dapps. The decentralized internet, Web3, is built on a foundation of cryptocurrencies and dapps. But in order to use them, you require a user interface. It is a browser plugin that serves as an Ethereum wallet. Once installed, it allows users to store Ether and other ERC-20 tokens, allowing you to transact with any Ethereum address.
MetaMask is one of the leading crypto wallets, which serves you to interact with Web3, decentralized finance (DeFi), and NFTs. Moreover, it is a versatile wallet supporting multiple protocols across blockchains.
What is Solana?
Solana is a public, open-source, programmable blockchain that features smart contracts. This network provides scalability and speed, allowing Solana to process transactions faster than other competitors. Additionally, it supports thousands of cryptocurrencies on the Ethereum ERC-20 protocol, allowing users to store NFTs as well. A powerful decentralized blockchain, it is user-friendly and efficient.
What are Web3 Wallets?
Before understanding Solana wallets, it is necessary to learn more about Web3 wallets. Crypto wallets, or Web3 wallets, are applications or devices maintaining a collection of keys and can hold crypto assets. You can use these keys to send, receive, and track ownership of cryptocurrency tokens. Additionally, a crypto wallet consists of one or more key pairs. Each pair has two keys: a private and a public.
What is a Solana Wallet?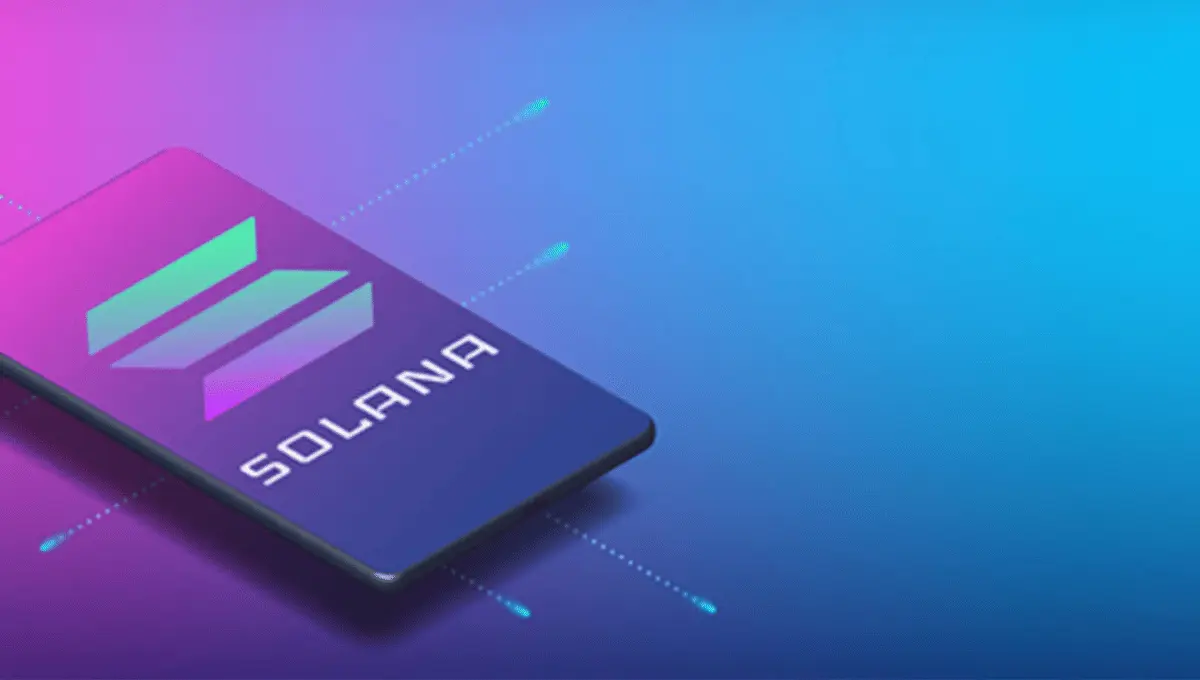 The Best Solana wallet provides all the essential wallet functionalities and features of Web3 Wallets, designed specifically for the Solana network. With a Solana wallet, you can seamlessly interact with SOL tokens and Solana's dapps, making it easy to manage your on-chain assets and use Solana-based Web3 applications. Whether you're a seasoned cryptocurrency trader or new to the world of blockchain, a Solana wallet is an indispensable tool for navigating the fast-paced world of decentralized finance on the Solana network.
How to add Solana to Metamask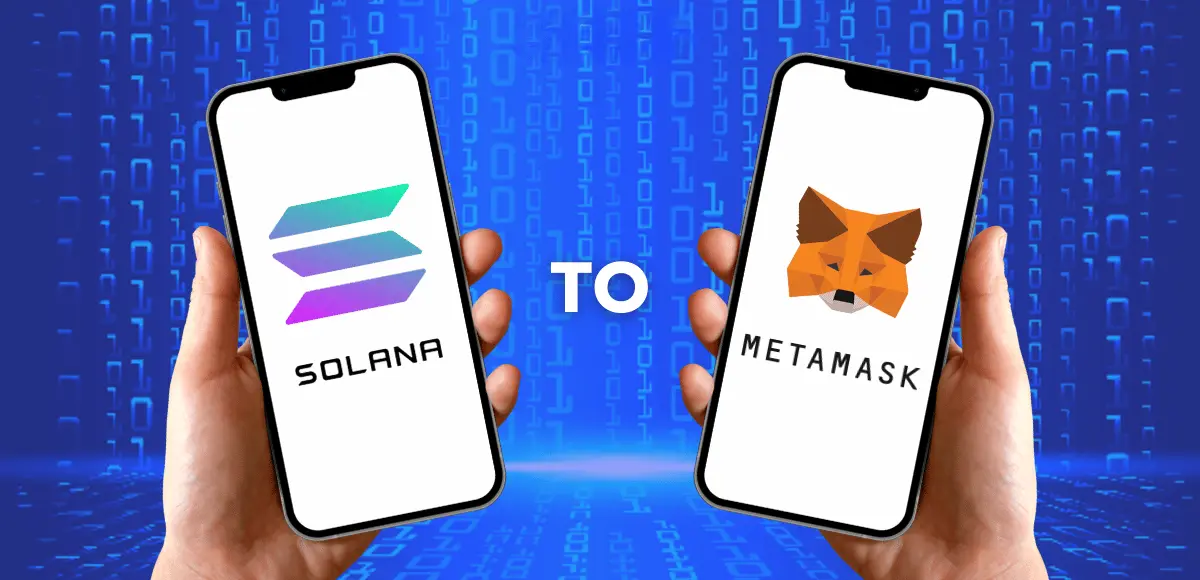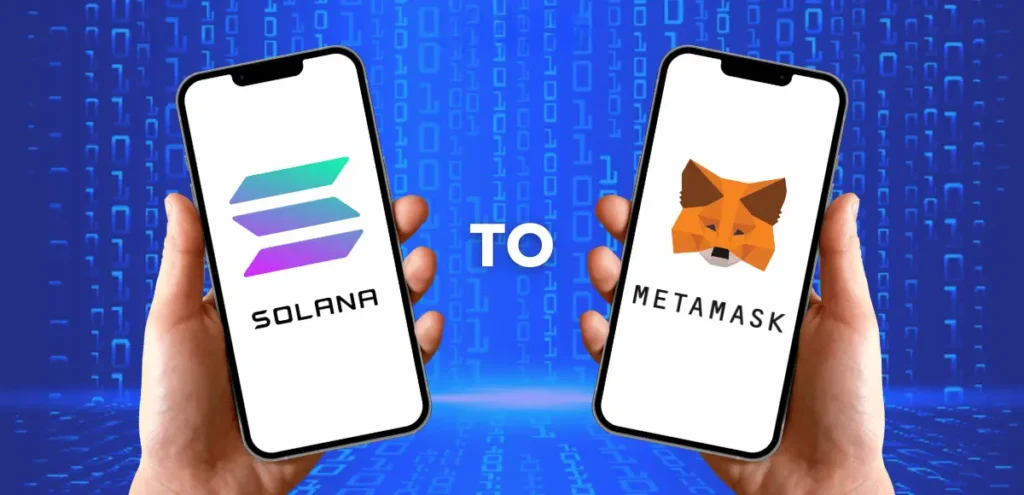 Even though adding Solana directly to Metamask is not possible, we've got an alternative to help add Solana to your Metamask account.
Method 1: by using Binance Smart Chain
Through this method, you can try adding wrapped Solana (wSOL) to the Binance Smart Chain. A wrapped token, in its most general sense, represents a cryptocurrency from either a blockchain or a similar token standard, with the same values as the original token.
It represents Solana on the Ethereum Blockchain and also bridges back over to normal Solana. The steps for adding Wrapped Solana to Metamask with the Binance Smart Chain are listed below.
Step 1: Visit the CoinMarketCap Website
You will first need to visit the official site of CoinMarketCap and then navigate to the Wrapped Solana's token page. Once done, tap on "more" for a drop-down menu.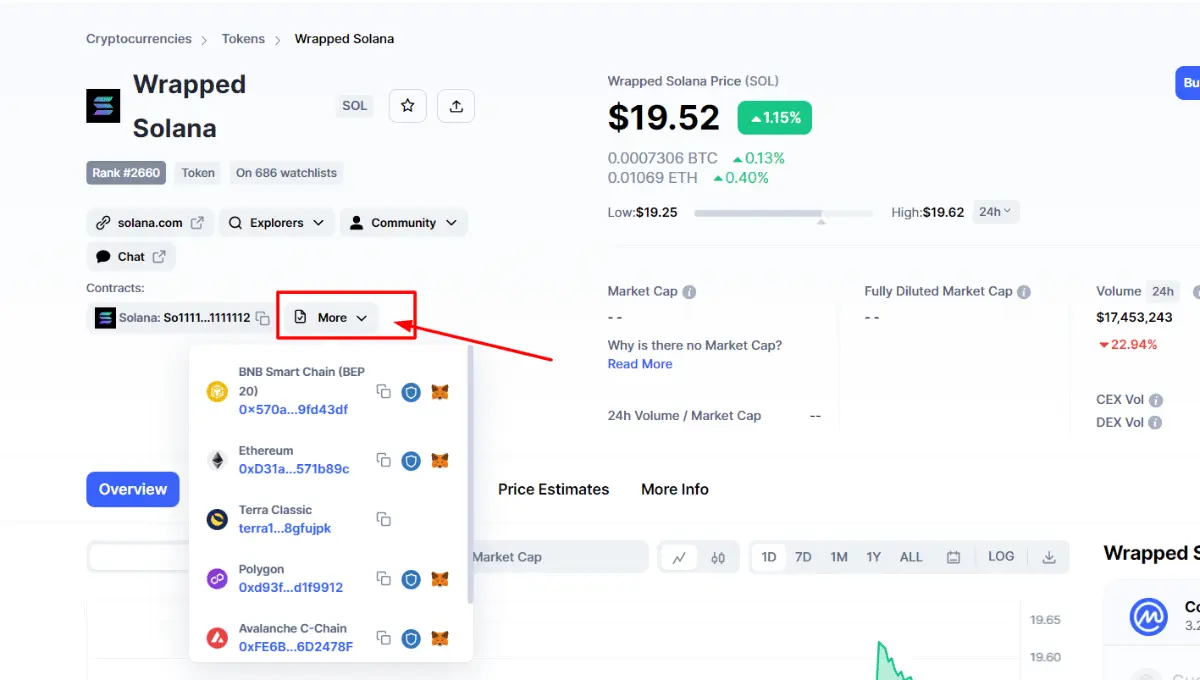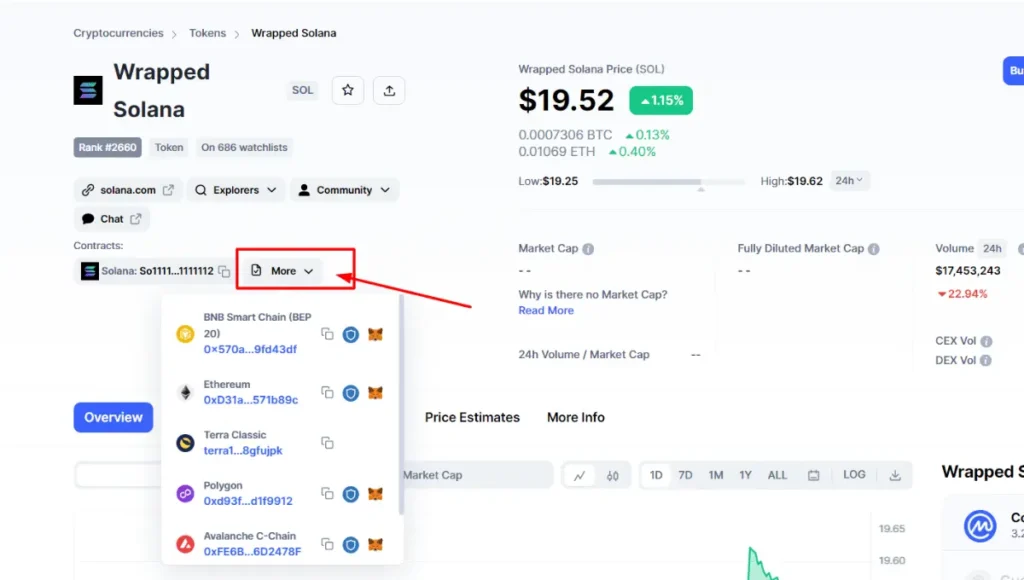 and copy the contract address of Wrapped Solana to the "BNB Smart Chain (BEP20)."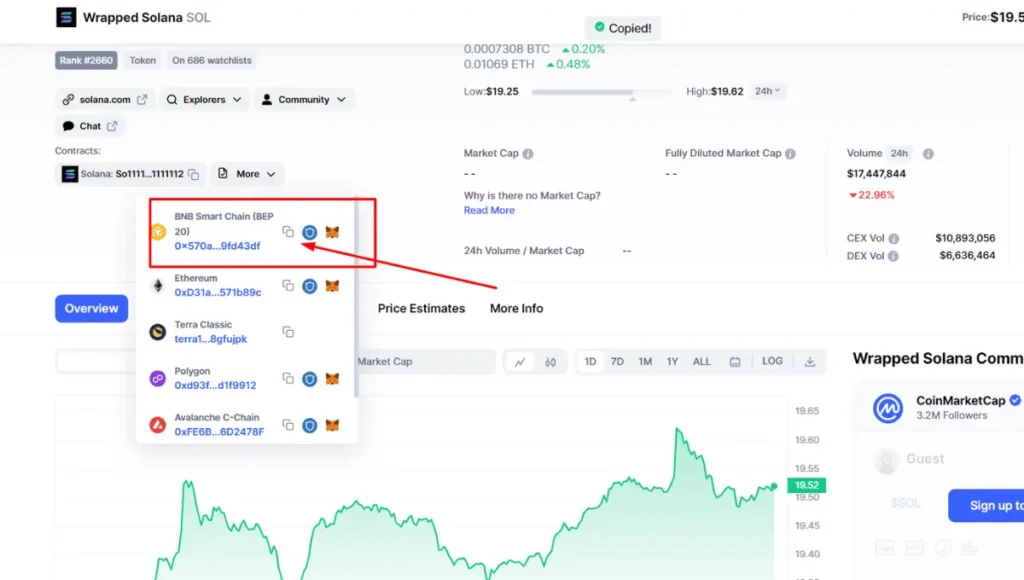 Step 2: Go to the Metamask Extension and Select BSC
Next, click on the Metamask extension to unlock it by entering the passcode.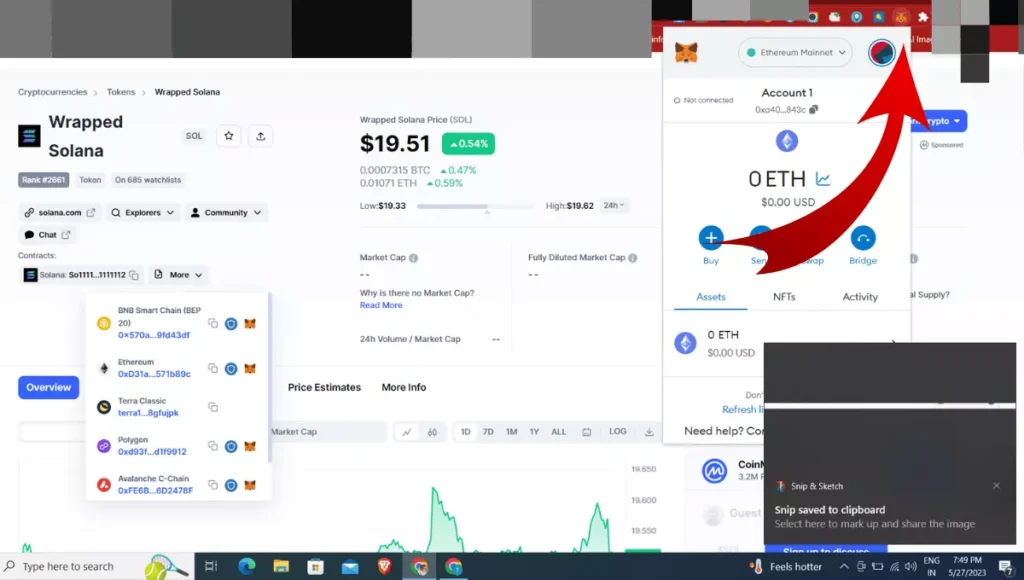 If you are using Metamask's app, use a PIN, fingerprint, or Face ID to unlock. Once through, choose BSC as your default network.
Step 3: Import Tokens and Enter the Contract Address
As soon as you select your Binance Smart Chain network, scroll down and click on "Import tokens" in the Metamask window.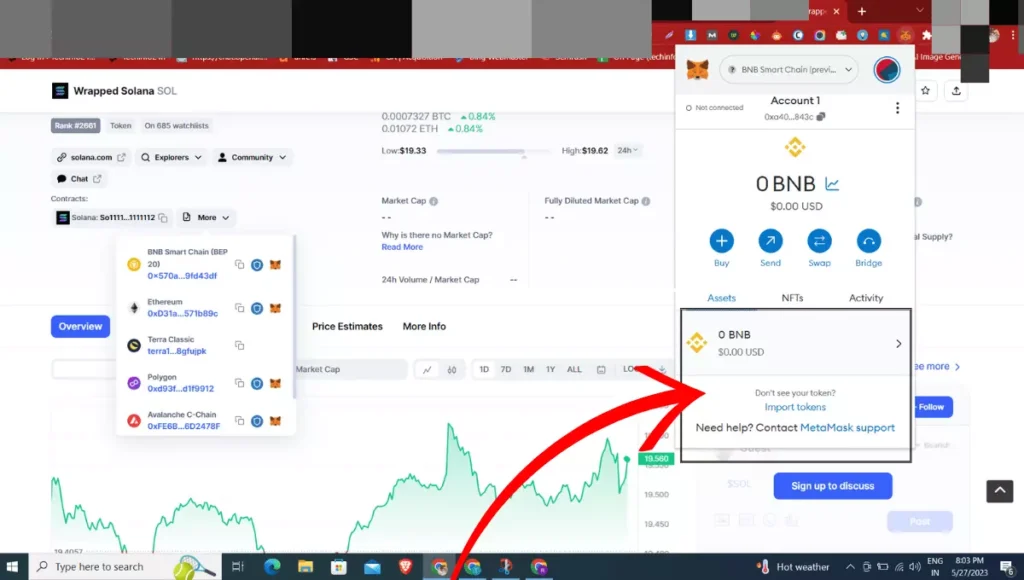 Now paste the contract address from CoinMarketCap and in just a few moments, Metamask will get the information: Ticker and Token symbol.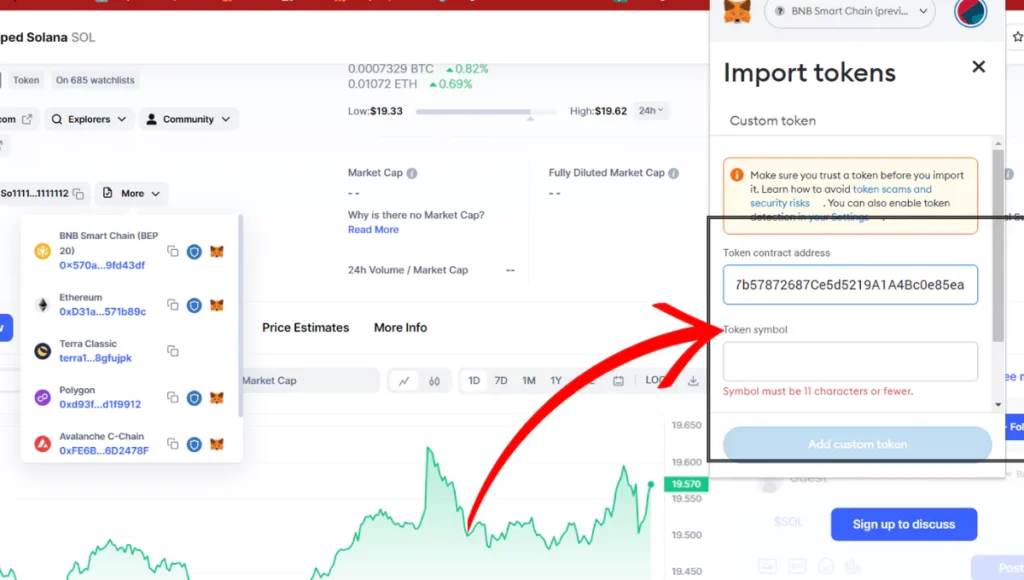 Click on "Add Custom Token" next and finally add Solana to your Metamask wallet.
Note: Since they are not compatible, sending native SOL tokens to Metamask will lead to a permanent loss of funds.
Method 2: By Using An Alternative Wallet
Let's not stop with one method; here's another for your rescue!
A few platforms (particularly decentralized apps in the NFT landscape) accept Solana tokens as a medium of exchange for the purchase, sale, and exchange of NFTs and other crypto assets So, the only way to use them is to use a wallet that supports Solana, such as the Phantom wallet, which is available as both a desktop extension and a mobile app.
Let's now get to the steps and know how you can set up a Phantom wallet for Solana support.
Step 1: Install the Phantom Wallet Extension or the Mobile App
To do so, you will need to visit the Phantom wallet page to download the browser extension for your desktop or the app, depending on the device – iOS or Android.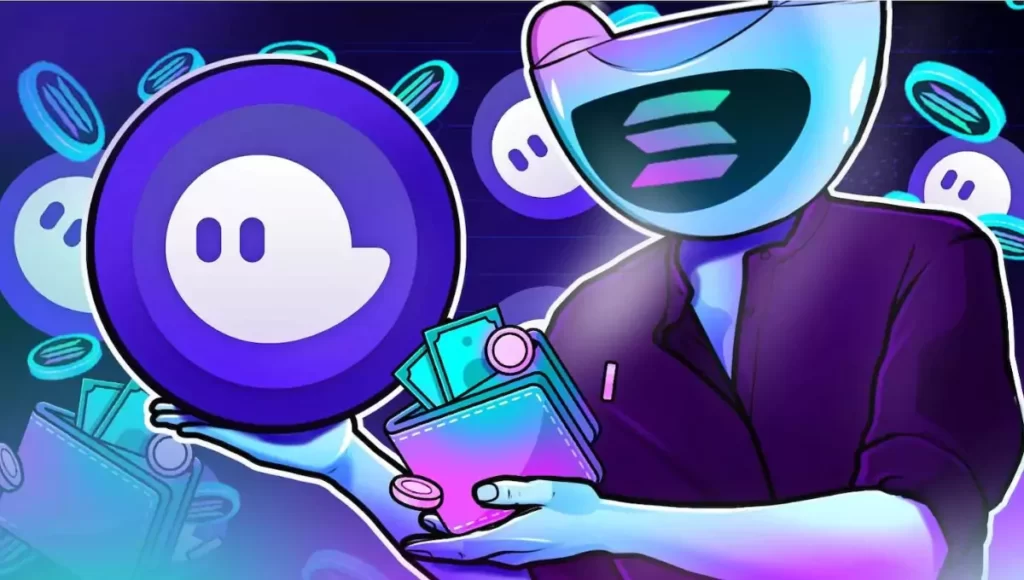 Note: We will be covering the steps below as steps for a browser extension.
Step 2: New Wallet Creation
Once Phantom is downloaded, click on the Phantom wallet's extension icon on your browser and click on "Create a New Wallet."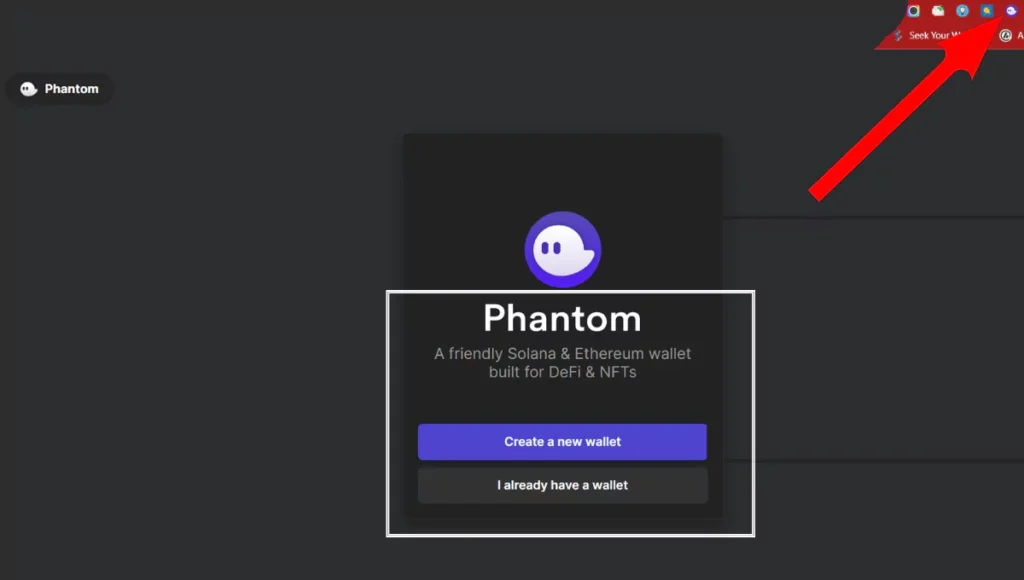 Step 3: Enter Credentials
You will want to create a strong password that will help you access your wallet whenever you need it. In the next field, confirm the same and click on "Continue."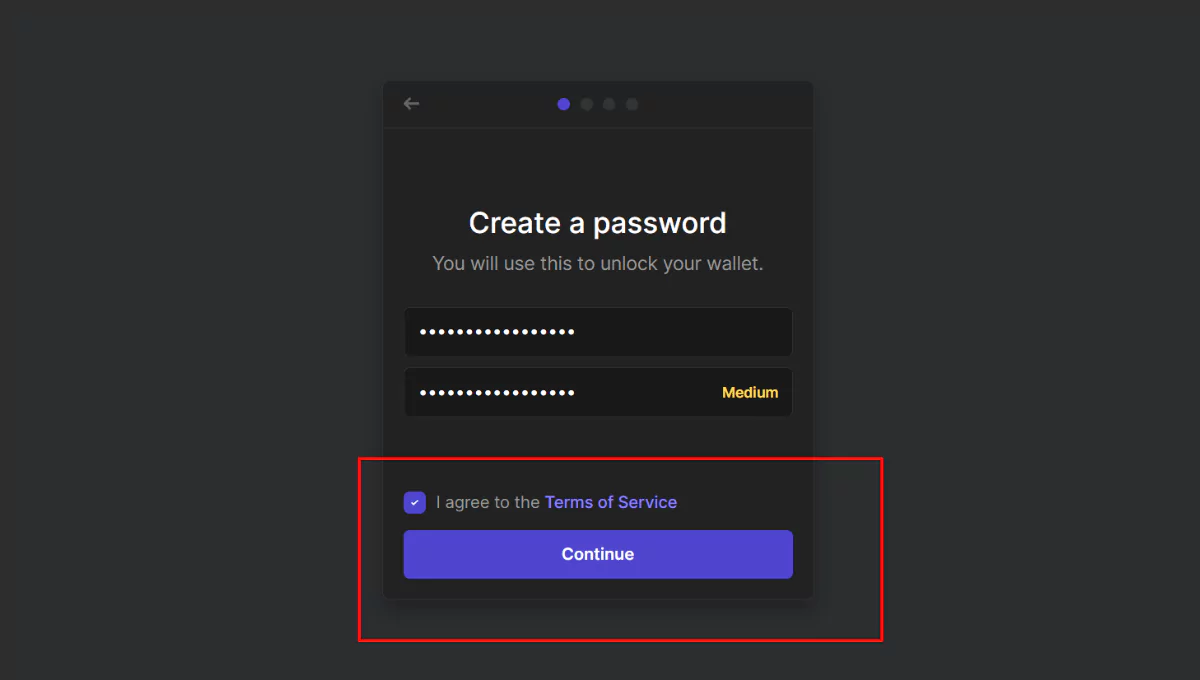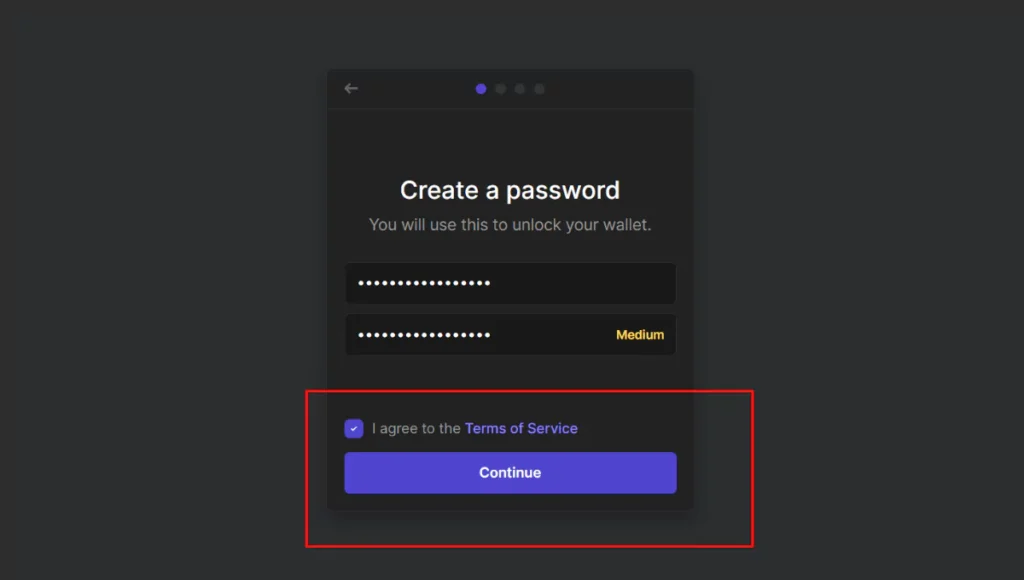 Step 4: Create a Backup Recovery Phrase
This helps you with access to the Phantom wallet that you've just created. We recommend noting down the phrase and safely storing it – once done, tick the checkbox and hit on "Continue."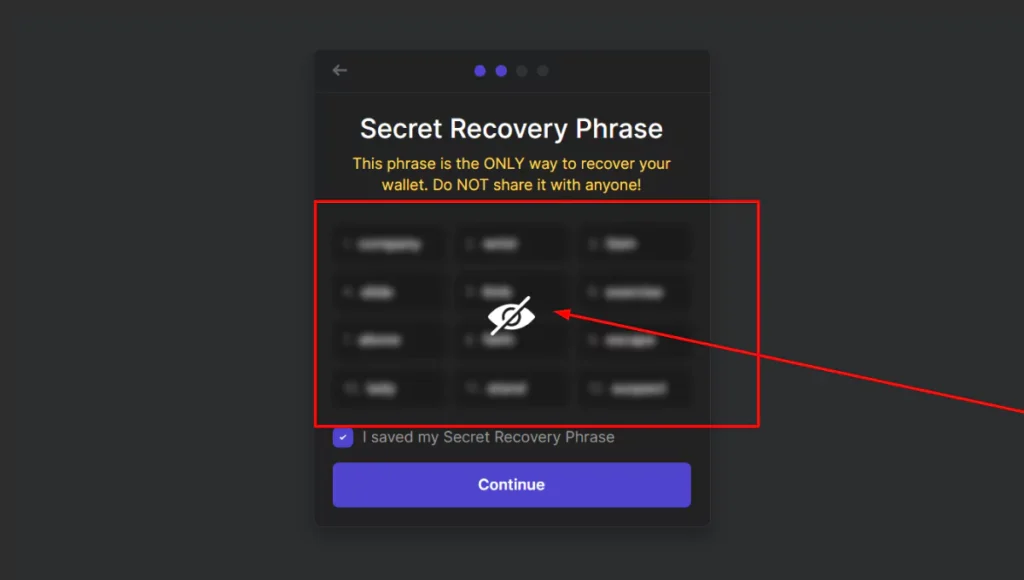 Step 5: Note the Shortcut Keys
This can be used to launch the Phantom wallet extension. When done, click on "Finish."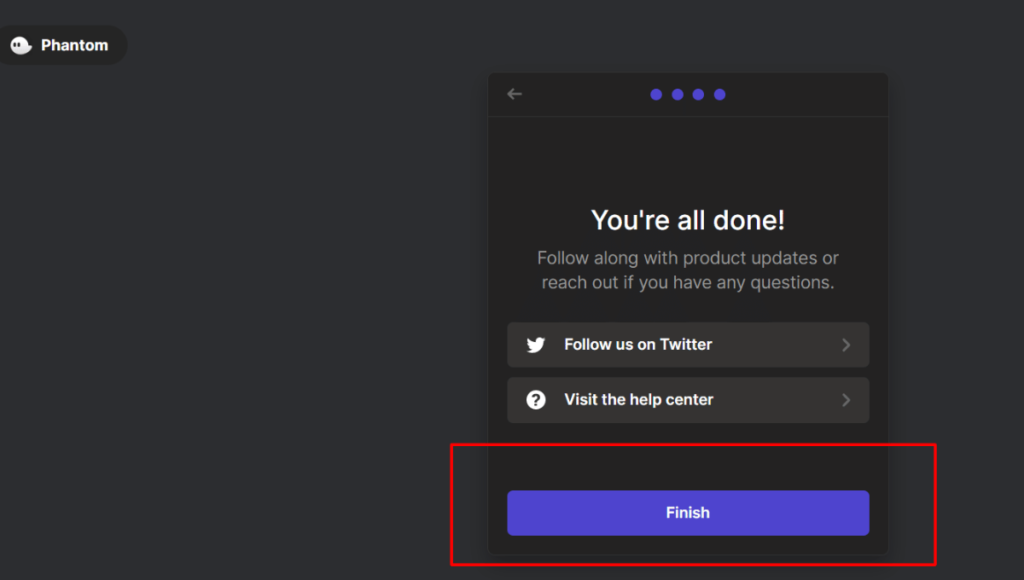 In the browser, select the "Phantom icon". To securely exchange "Solana", click the "Send" or "Receive" icon.
How to Add Solana to Metamask – Conclusion
So, the following steps illustrate how you can add Solana to Metamask. We hope the two alternative steps to add Solana to Metamask help you add Solana to Metamask – with ease.