The latest Google Pixel 7a smartphone covers most features that lack in the Google Pixel 7 and Google Pixel 7 Pro launched in October 2022. The Pixel 7a comes at a budget price and has some of the best features that can give competition to some of the best smartphones currently available in the market. However, iPhone 14 comes closer or higher to Pixel 7a when it comes to features and performance.
Google and Apple have both launched their flagship smartphones Google Pixel 7 and iPhone 14 with upgraded features and software. Users who like iOS prefer using Apple smartphones. However, for Android users, Google comes with upgraded features with every new phone that it launches. The Pixel 7a is one such device that has improved features like a camera and software that compliments it, delivering high-quality images and a great photographic experience.
So we decided to compare both the smartphones on the basis of their features, price, design, cameras, battery life, and performance. Let's find out some of their important differences.
Specifications of Google pixel 7a and Apple iPhone 14
| | | |
| --- | --- | --- |
| Features | Google Pixel 7a | Apple iPhone 14 |
| Dimensions | 152.4 x 72.9 x 9mm | 146.7 x 71.5 x 7.8mm |
| Weight | 193g | 172g |
| Display | 6.1-inch OLED | 6.1-inch OLED |
| Resolution | 2400 x 1080 pixels | 2532 x 1170 pixels |
| Refresh rate | 90Hz | 60Hz |
| Rear cameras | 64MP main (26mm, f/1.9), 12MP ultra-wide (f/2.2) | 12MP main (26mm, f/1.5), 12MP ultra-wide (13mm, f/2.4) |
| Front camera | 10.8MP | 12MP |
| Chipset | Google Tensor G2 w/ Titan M2 security | A15 Bionic |
| Processor | Octa core (2.85 GHz, Dual core, Cortex X1 + 2.35 GHz, Dual core, Cortex A76 + 1.8 GHz, Quad core, Cortex A55) | Hexa Core (3.23 GHz, Dual core, Avalanche + 1.82 GHz, Quad core, Blizzard) |
| Architecture | 64 bit | 64 bit |
| Graphics | Mali-G710 MP7 | Apple GPU (Five-core graphics) |
| Storage | 128GB (UFS 3.1) | 128GB, 256GB, 512GB |
| RAM | 8GB (LPDDR5) | 6GB |
| Battery | 4,385mAh | 3,279mAh |
| Waterproof | Water resistant (up to 30 minutes in a depth of 1 meter), IP67 | Water resistant (up to 30 minutes in a depth of 6 meter) |
| Additional Features | Dual Camera, Dustproof, Dual LED Flash, USB C-type charging | Dual Camera, Dustproof, WiFi calling, LED Flash |
| Price | $499 / £449 / AU$749 | $799 / £849 / AU$1,339 |
Design and Display
iPhone retains the aesthetic look of its previous model iPhone 12, whereas the Pixel 7a is the same as its predecessor, with a different rear camera setup.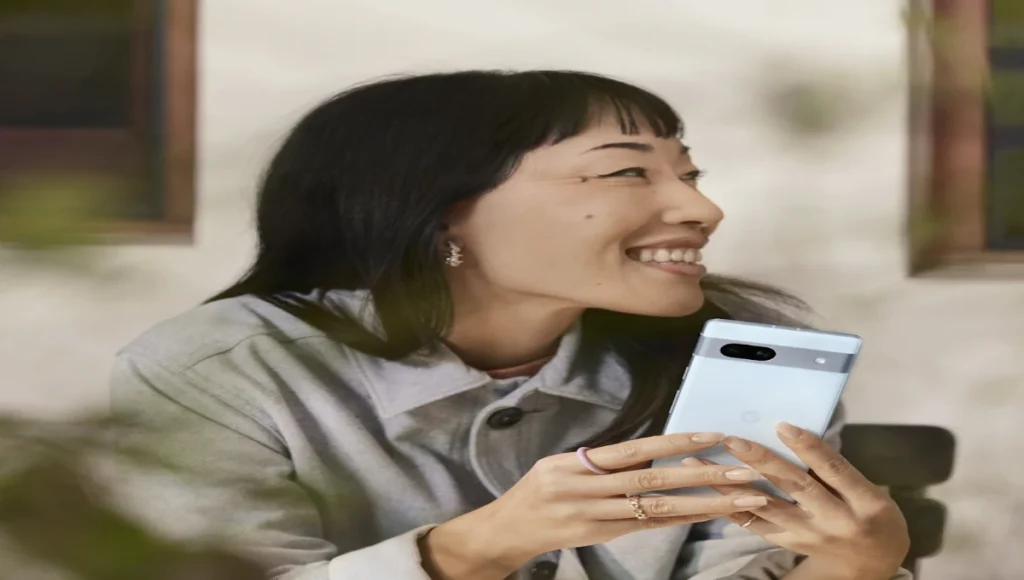 Both Pixel and iPhone 14 have attractive 6.1 inch display screens. However, the iPhone 14 has a higher resolution 2532×1170 than the Pixel 7a (2400×1080). Yet this difference is very minute as compared to the other features of both smartphones. Normally users would not notice this difference when they find other valuable features in the phones.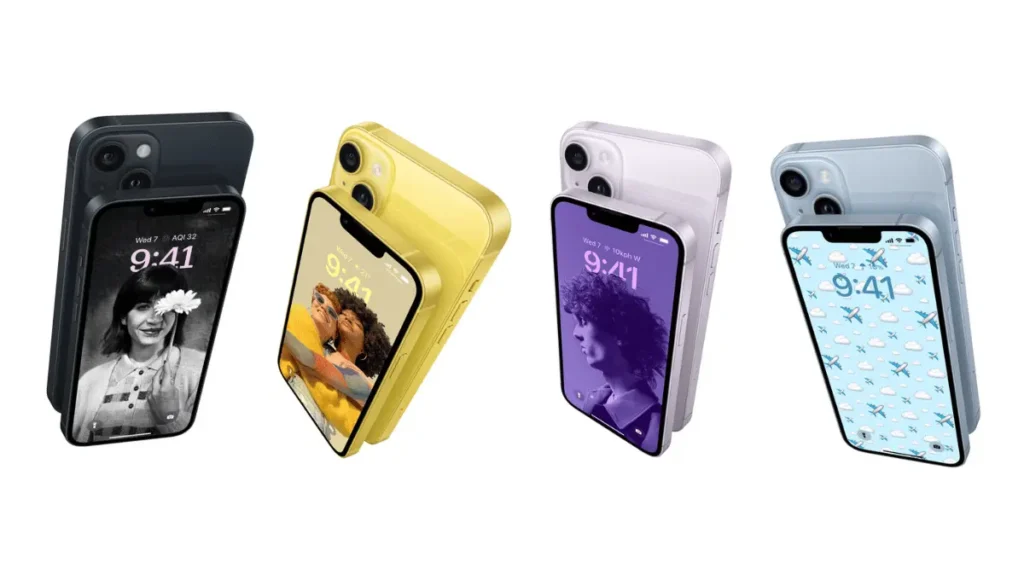 iPhone's refresh rate is max 60Hz whereas the Pixel 7a comes with a 90Hz displaying smooth pictures and videos. This is a big difference as Google Pixel's refresh rate helps display clear and smooth picture quality, better than the iPhone 14. The Google Pixel 7a is a touch larger than the iPhone 14.
Performance of Google pixel 7a and Apple iPhone 14
Since both Pixel 7a and iPhone 14 have different technologies used in them, it is difficult to know who performs better as every user has a separate need for using a phone. Personal experience matters in this category as some users prefer using iOS software while others are quite comfortable with Android.
Apple's internally developed A15 Bionic chip, which powered the iPhone 13, also powers the iPhone 14. However, the Pixel 7a uses the Google Tensor G2 chip. It was used in last year's Pixel 7 phones.
Both phones have superior system technologies and can run under different circumstances. Apple's performance is flawless and Pixel comes very close to it. You might observe slight differences while playing games etc., but not any major ones. You can have immersive video-watching sessions, quality music, clear photography with enhanced editing features, and multiple apps to use for various purposes.
A fool-proof performance is expected and that's what you get with the Pixel 7a and the iPhone 14.
Battery life and Charging Options
iPhone 14's 3,279mAh battery lasts for a good 9.5 hours which is a full day and night on normal use. A 5W adapter would charge its battery quickly. Apple's 20W charger provides 50% battery charging in 30 minutes, although a bit expensive. Also, you can use MagSafe for iPhone and Qi wireless charging options.
On the contrary, the Google Pixel 7a's 4,385mAh large battery lasts longer for 24 hours on normal use. However, its performance lowers when used for gaming or other purposes. Google's Extreme Battery Saver mode lasts up to three days depending upon the limited use of specific apps and features. On moderate use, the Pixel 7a does not last a full day even though it has good features.
Camera of Google pixel 7a and Apple iPhone 14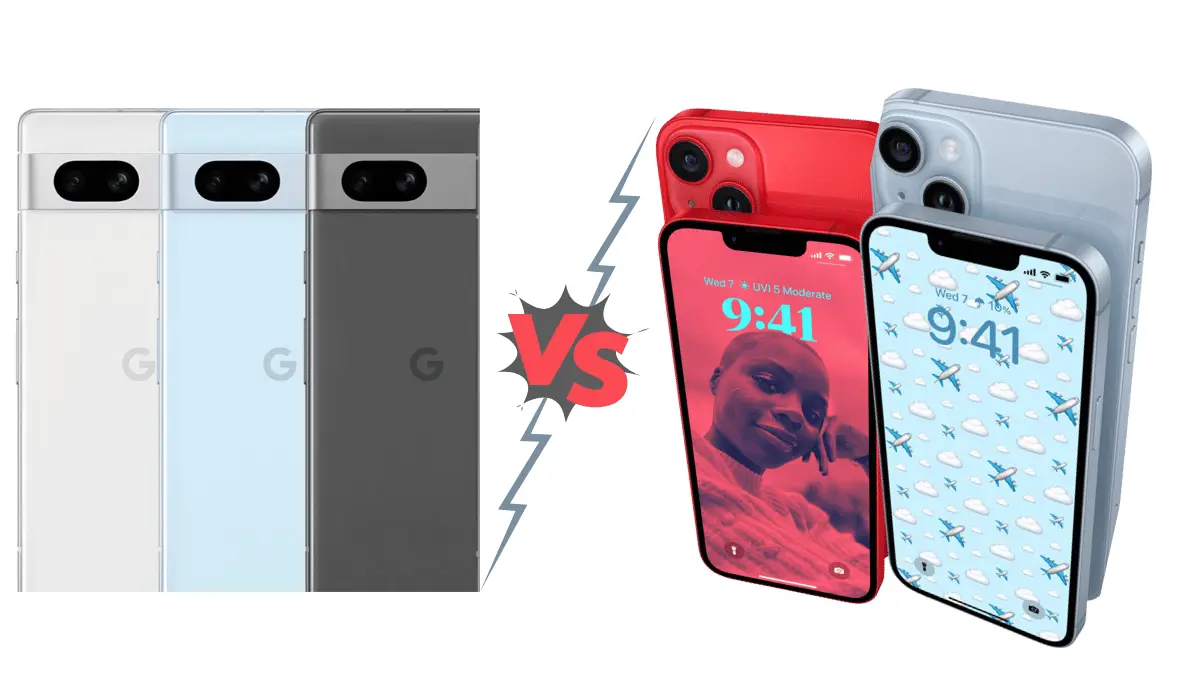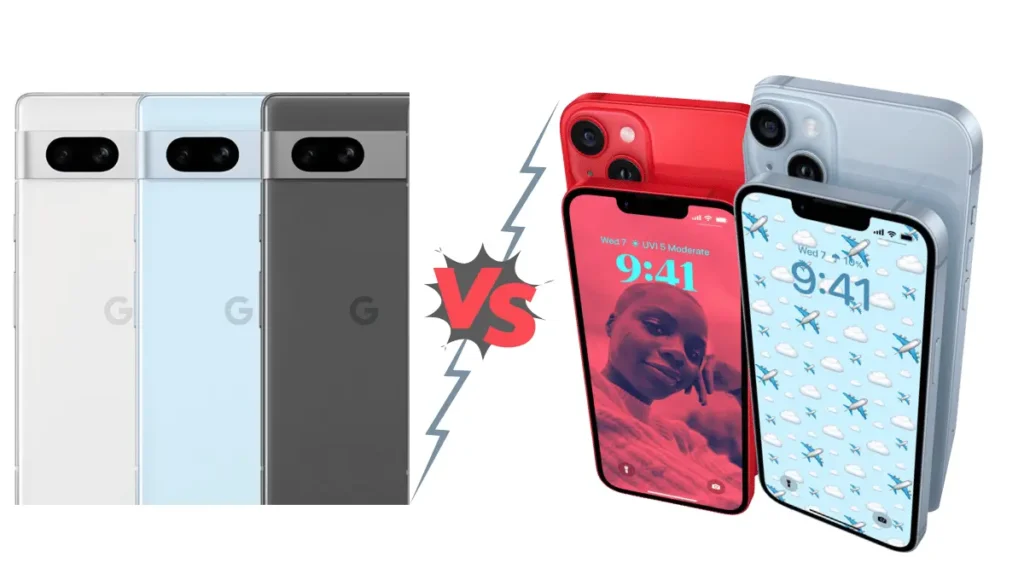 The iPhone 14 sports a pair of rear cameras with 12MP lenses. However, the Pixel 7a comes with a 64MP main lens and a 13 MP ultrawide lens. Both smartphones are equipped with high-quality camera software to enhance the user's photographic experience. Moreover, Pixel's Night Sight and iPhone 14's surround sound are the best features of these smartphones.
Price
The iPhone 14 starting price is $800 and the Google Pixel 7a starts at $500 only. The mid-range Pixel 7a is similar to the flagship Pixel 7, with a smaller screen size as a slight change. The iPhone 14 is expensive yet has all the features of Apple's flagship smartphone.
Additional Features
In other differences iPhone 14 includes a Lightning port while the Pixel 7a has a USB-C port. The iPhone 14 is available in Red, blue, Starlight, purple, Midnight, and yellow color shades. The Pixel 7a comes in Sea, Snow, Coral, and Charcoal color shades.
With 120GB RAM that's higher than the iPhone 14 the Google Pixel 7a offers multitasking across various apps. iPhone 14's 8GB RAM offers sufficiently good service, but the iPhone 14 Pro Max offers the best multitasking features with 6GB RAM.
Final Words
Both Google Pixel 7a and iPhone 14 serve different purposes for users. Google Pixel 7a has an attractive price with all the necessary features that the user would want. The iPhone 14 is the best phone for people who prefer iOS smartphones over Android phones. However, the Pixel 7a excels in the game with high-quality software and photography features, higher performance, and a long-lasting battery, and comes at a lesser price than the iPhone 14. So choose the smartphone that best suits your interests and needs.
Disclaimer: Techinfo24h is not liable for retailers' price changes. Prices may vary depending on the discounts offered during sales on their respective sites. The product price mentioned above is the current price displayed on the respective sites.