The latest Google Pixel 7 Pro smartphone along with its duo Google Pixel 7 has all those premium features that an Android phone enthusiast would love to have. Both phones deliver ingenious functionalities and amazing camera capabilities at a budget-friendly price compared to their competitors like the Samsung Galaxy S22 Ultra and Apple iPhone 14 Pro. Google Pixel 7 Pro and iPhone 14 Pro have distinct price differences. Yet both smartphones display premium quality hardware features making them one of the highest desired smartphones worldwide.
The Pixel smartphone has always offered the best AI photographic qualities while maintaining its hardware standards. However, the iPhone 14 Pro has introduced superior-quality camera hardware that enhances captured photos and videos with great detail. Apple's latest flagship smartphone offers a stunning display, great computational power, amazing photography, and efficient battery performance making it one of the best Apple phones ever made.
We noted the key differences between the Google Pixel 7 pro and Apple iPhone 14 pro in our article before. Now we will carefully examine all the unique aspects of their Pro versions so you can determine which one delivers better overall performance and camera capabilities – the Google Pixel 7 Pro vs iPhone 14 Pro.
Before looking into the smartphone's camera features let's check its other important features.
Here are the features of the Google Pixel 7 Pro and the iPhone 14 Pro.
Here are features of Google Pixel 7 Pro and the iPhone 14 Pro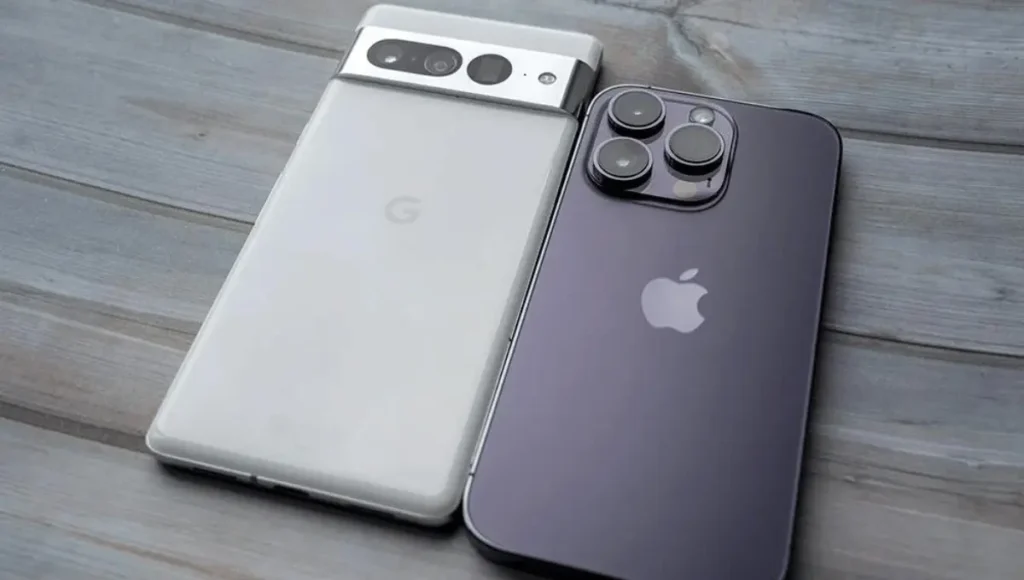 Design
The Pixel 7 Pro has a design similar to the Pixel 6 Pro's, with additional color choices and other enhancements. It comes with a metal camera aluminum bar at the back that makes it look distinct and a curved display on the front, complete with a small selfie camera.
The iPhone 14 Pro retains the iPhone's design and has a larger rear camera block with slightly slimmer bezels. Its distinct Dynamic Island replaces the iconic notch, and displays necessary information from your active apps. It includes the front camera and Face ID sensors.
The Pixel 7 Pro's curved back and screen style offers comfort making one-handed navigation easier, better than the iPhone.
Software and Additional Features
Both iPhone 14 Pro's iOS 16 software, and Pixel 7 Pro's Android 13 are effective in their own different ways. The Pixel's Tensor G2 chip offers the Call Screen and Clear Call noise cancellation features to block robocalls and for better call audio. Its dictation, transcription, and translation abilities are updated too.
The iPhone 14 Pro's iOS removes subjects from photos for pasting, tracks deliveries, and scores, and customizes lock screens. It has crash detection and Face ID unlocking.
The Pixel 7 comes with a fingerprint reader and Face Unlock offering moderate security features. Google offers 3 years of software support, 5 years of patches, and Google One VPN access whereas Apple offers over 5 or 6 years of updates depending on its previous performance.
Performance
Pixel 7 Pro model comes with 12GB of RAM. Yet the Apple iPhone's A16 Bionic chip, and 6GB of RAM, outperform the Pixel's Tensor G2 chip. Both the phones start at 128GB RAM and 256GB extendable options too. However, iPhone 14 Pro users get 512GB and 1TB expandable storage options.
Battery and Charging
The Pixel 7 Pro's 5,000 mAh battery is larger than the iPhone 14 Pro's 4,323 mAh cell. Apple Pro's battery is the second best in the market regarding battery life and lasts up to 13 hours and 39 minutes. However, Pixel 7 Pro offers 8 hours and 4 minutes of usage.
In addition, the iPhone supports 20W wired and 15W MagSafe wireless charging options whereas the Pixel 7 Pro offers up to 30W wired and 23W wireless charging.
The camera specializations of both smartphones are unique and different. So let's discuss its features individually.
Camera Specs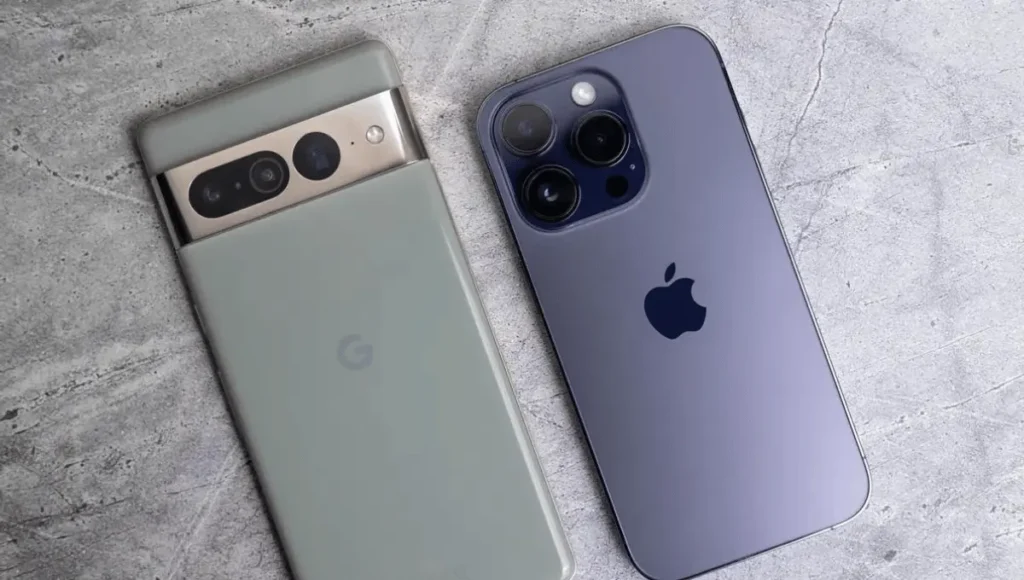 If you want the best of cameras on your smartphone, then Google Pixel 7 will be the best. However, Pixel 7 Pro exhibits a telephoto camera and a macro mode, unlike Pixel 7. Both iPhone 14 Pro and the iPhone 14 Pro smartphones have identical camera features.
Pixel 7 Pro
iPhone 14 Pro
Primary Camera
Resolution
50-megapixels
48-megapixels
Stabilisation
Optical
Optical
Aperture
f/1.85
f/1.78
Wide-angle Camera
Resolution
12-megapixels
12-megapixels
Field of View
126 degree
120 degree
Aperture
f/2.2
f/2.2
Telephoto Camera
Resolution
48-megapixels
12-megapixels
Optical zoom
5X
3X
Max zoom
30X
15X
Aperture
f/3.5
f/2.8
Stabilisation
Optical
Optical
Selfie Camera
Resolution
10.8-megapixels
12-megapixels
Aperture
f/2.2
f/1.9
Depth Sensor
No
Yes
The Google Pixel 7 Pro has a 50-megapixel rear camera with optical image stabilization (OIS), while Apple displays a 48-megapixel camera with sensor-shift OIS technology. Both the smartphones integrate OIS into their telephoto cameras. Yet Pixel 7 Pro's 5X optical zoom feature is better than the iPhone 14 Pro's 3X optical zoom range.
The Pixel 7 Pro provides a broader 126-degree field of view for its ultra-wide-angle camera, while the iPhone 14 Pro offers a 120-degree field of view. Both the camera lenses are equipped with autofocus features. In addition, Apple's iPhone includes a LiDAR scanner that enhances Portrait photography and allows low-light focusing.
Moreover, Apple's TrueDepth camera setup equipped with a 12-megapixel camera autofocus feature is an ideal tool for taking selfies. On the contrary, the Pixel 7 Pro uses a 10.8-megapixel sensor with a fixed-focus design.
Comparison: Primary Cameras
Both smartphones capture amazingly sharp images with a dynamic range, yet Google's Pixel 7 Pro processes enhanced dynamic range with vibrant colors in bright environments. However, the iPhone 14 Pro delivers high-contrast images with natural hues that are not so appealing. Moreover, Apple's process produces cooler image colors, while the Pixel 7 Pro exhibits warmer tones different from the past Pixel iterations.
Pixel 7 Pro helps you adjust exposure, contrast, and white balance before capturing images, while Apple offers preset image styles (Standard, Rich Contrast, Vibrant, Warm, Cool) with customization options. Both smartphones lack a dedicated Pro mode usually present in other high-end Android smartphones offering manual controls for photography and videography.
Google Pixel 7 Pro vs iPhone 14 Pro Ultra-Wide Cameras
Google Pixel 7 Pro's ultra-wide-angle camera outperforms the iPhone 14 Pro in low light conditions. Pixel 7 Pro's software processing shows fewer distortions and better dynamic range even in the wider field of view. In contrast, the iPhone 14 Pro's superior autofocus technology, captures better images in low light.
Google Pixel 7 Pro vs iPhone 14 Pro Telephoto Cameras
The Pixel 7 Pro's expert hardware has a 5X telephoto camera, while the iPhone 14 Pro has 3X zoom. The iPhone 14 Pro has a limited dynamic range at 3X, affecting dark details that worsen as you zoom, and blows out the backgrounds with 15X.
In contrast, the Pixel 7 Pro's 3X excels with HDR processing, starting from 3X with sharp details up to 10X to 15X and starting blurring at 30X with an impressive dynamic range. However, In low light, the Pixel starts losing details in low light.
Google Pixel 7 Pro vs iPhone 14 Pro: Portrait Mode
The iPhone 14 Pro lets you adjust background blur while taking photos. The Pixel 7 Pro has a preset blur that's adjustable after taking the photo in the Photos app. The Pixel 7 Pro has 1X and 2X options, but it's more like 1.6X and 3X due to scaling. The iPhone 14 Pro has 1X, 2X, and 3X. In daylight, the Pixel captures detailed photos, but faces can look reddish, while the iPhone keeps skin tones better. In low light, the Pixel produces sharper images with a bit more color.
Google Pixel 7 Pro vs Apple iPhone 14 Pro: Selfies
Both phones have two magnification choices, but the Pixel's wider view fits more people. In daylight, both take detailed selfies, with the iPhone sometimes making the background too bright. The iPhone is better at the edges, while the Pixel has issues in some places. In low light, the Pixel 7 Pro stands out with sharper, detailed selfies, unlike the iPhone's softer, less vibrant ones.
Google Pixel 7 Pro vs iPhone 14 Pro: Macro Performance
The ultra-wide camera on both phones takes closer shots. Images show similar details, contrast, and colors. The Pixel 7 Pro introduces Auto-Night mode for macro shots, which doesn't significantly outperform the iPhone.
Google Pixel 7 Pro vs iPhone 14 Pro: Video Recording
Apple excels in 4K 60fps video, with smoother, more detailed footage than the Pixel 7 Pro. The Pixel's videos have noticeable noise, even in daylight. The iPhone is consistently better in low light and HDR video. The Pixel 7 Pro struggles with processing, unlike the iPhone, despite its Tensor G2 SoC.
Price and availability
While the iPhone 14 Pro comes with a price tag of $1,099 / £1,199 / AU$1,899, the Pixel 7 Pro starts at a more affordable $899 / £849 / AU$1,299. This price difference works wonders when users want to buy a quality phone at a budget price.
Pros and Cons Google Pixel 7 Pro
| Pros | Cons |
| --- | --- |
| Sharp, 120Hz display | Gets warm under load |
| Good quality cameras and gaming displays | No bundled charger |
| Bloatware-free software, timely updates | Underwhelming battery life |
| Premium design, IP68 rating | Relatively slow charging |
Pros and Cons iPhone Pro 14 Pro
| Pros | Cons |
| --- | --- |
| Outstanding display with always-on mode | Expensive |
| Excellent overall performance and battery life | Gets warm under heavy workloads |
| Regular iOS updates for many years | Relatively slow charging and transfer speed |
| Cameras capture high-quality images and video | Limited customisation for Dynamic Island |
Final Words
The iPhone 14 Pro is better at video recording, while the Pixel 7 Pro is great at still images and zoom. The iPhone's pricing and storage options are more flexible. Although the Pixel 7 Pro is good at still images, it falls short in video recording compared to the iPhone's strong performance in that area.
Disclaimer: Techinfo24h is not liable for retailers' price changes. Prices may vary depending on the discounts offered during sales on their respective sites. The product price mentioned above is the current price displayed on the respective sites.