Do you like adventure trips or camping or are you just an athlete who likes to move towards the mountains often? If yes then of all the essential wearables you use, one of them would be a reliable smartwatch. The Carbinox range of rugged smartwatches is well-known worldwide for their durability in tougher weather conditions. Now, the popular smartwatch company has released yet another smartwatch, the Carbinox Titan Pro. It comes with upgraded features best suited for all your outdoor activities from adventures to daily outdoor commuting.
This article offers you a Carbinox Titan Pro watch review, that explores the new smartwatch's unique features, design, and performance. It will provide you with a study on how its upgrades are best suited to be an outdoor smartwatch and contribute to being the right companion for you on your adventure trips.
Specifications: Carbinox Titan Pro Watch Review
Dimensions
Diameter: 44 mm
Weight
55grams
Display
1.85″ TFT LCD, 280 x 320 pixel resolution
Sensors
g-sensor, heart rate monitor, blood pressure monitor, blood oxygen monitor
Materials

Aerospace aluminum bezel and strong body,
5ATM Water Resistance technology.
Screen
Panda Tempered Glass, Scratch resistant.
Connectivity
Bluetooth 5.0
Battery
380mAh
Battery life
1 Week battery life, 10-12 days on regular use.
Compatibility
Android 6.0 and above, iOS 9.0 and above
Additional Features
Da Fit app, 5 ATM/IP69K Waterproof, Bluetooth call, Over 20 Sport modes,
Price
$114.95
Design and Display
The Carbinox Titan Pro Smartwatch has maintained its signature rugged and industrial look that Carbinox is known for. It comes with a PC body design with a tough and durable metal frame, a power button, and a back button on the side. Its mechanical design makes it look attractive and unique among other smartwatches. But that's not all!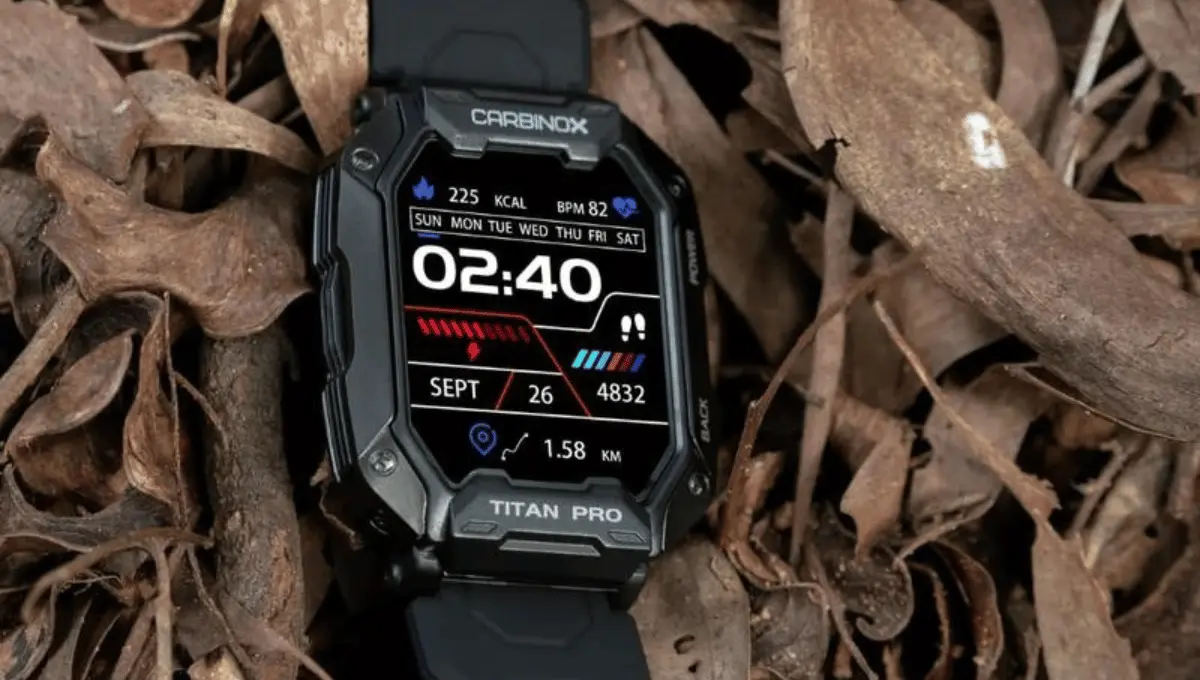 The Titan Pro comes with an impressive IP69K rating, which makes the smartwatch highly water-resistant and dustproof. So you can wear it when you are up to 50 meters underwater or while riding a bike or bicycle on a dusty pathway. Moreover, a durable, flexible silicone strap with a steel buckle wears perfectly on your wrist, keeping the watch secure when you are doing your adventures outdoors.
So here you have a smartwatch that is durable, stylish, and robust yet stays low on your budget. Pretty good for an adventurer like you right? You can check its website for other colors as presently it comes in a two colors Night Black and Sky Blue. Also, although the watch is waterproof we don't recommend you using it while swimming or using it in heavy rainfall conditions.
The Titan Pro's display is a full touch screen with a 1.85'' IPS LCD screen. Its 280 x 320-pixel resolution color screen comes with satisfyingly good graphics and clear images. Also, a tempered glass screen covers the display preventing it from getting scratched.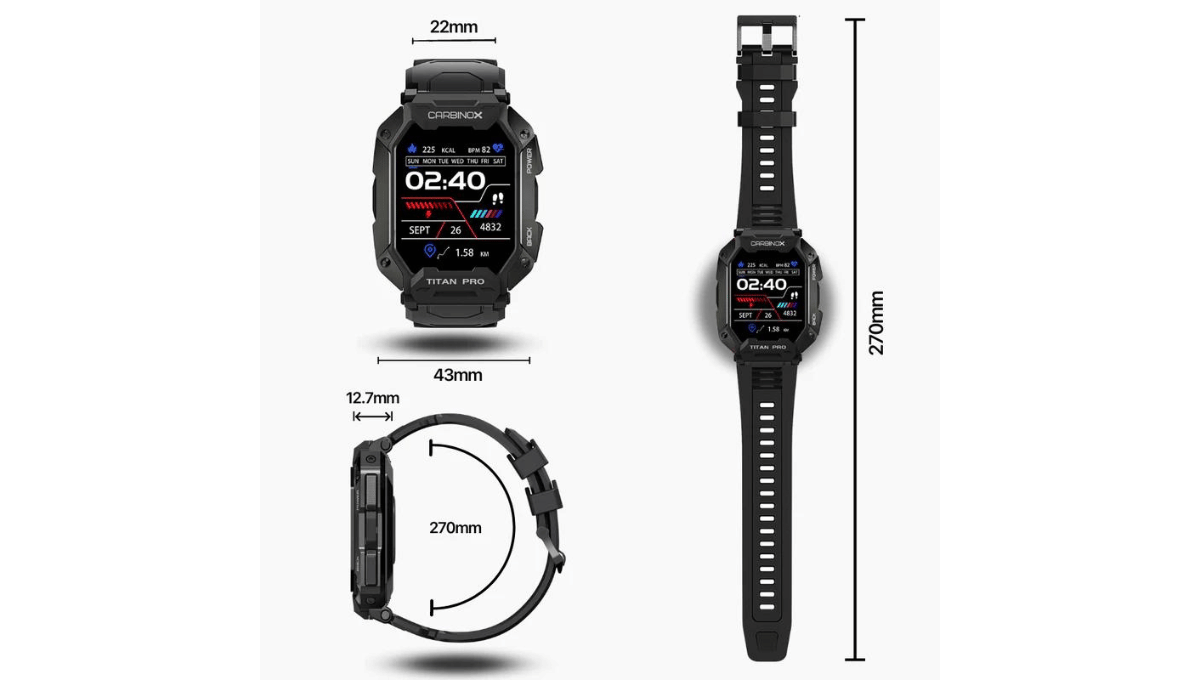 Carbinox's website tells us about the watch's rigorous testing in various outdoor conditions. As per the company, The Titan Pro can withstand up to 10,000 lbs of weight, and extreme temperatures (-22 F to 150 F). Its shock and scratch-resistant design keeps it safe from drops, and scratches for years. Like all other Carbinox watches, Titan Pro is made using robust materials that let the smartwatch stay connected and intact during activities like welding, carpentry, machine work, construction, etc. where people are exposed to harsh outdoor conditions.
Some Special Features of the Carbinox Titan Pro Smartwatch
Our Carbinox Titan Pro Review explores some unique features of this smartwatch that make it a better choice among its contenders. Let's look into those features that make this smartwatch tick.
Bluetooth Call Support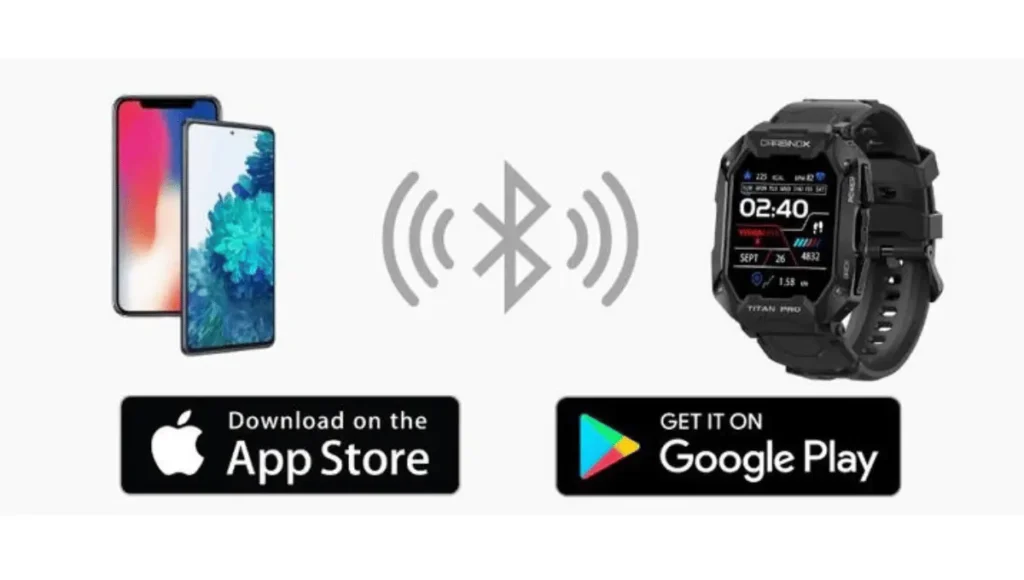 Carbinox Titan Pro supports Bluetooth calls using its advanced Bluetooth connectivity and a waterproof speaker. You can save mobile numbers, and make and receive calls on your wrist without using your smartphone. It's an important feature for users who stay up to date with all their calls and messages and don't want to miss any of them. With a hi-fi speaker and mic, calling is easy and fun too on the Titan Pro. The smartwatch supports dial keys, a phone book, and call logs.
Personal Health Update Features
Titan Pro offers basic health monitoring features for all your health-conscious people. You can check your heart rate, and monitor it 24/7 conveniently on your wrist while on the go, at work, or while resting.
Additionally, the watch supports blood pressure and blood oxygen monitoring anytime you need to know them. The smartwatch support app displays complete health update graphs whenever you need. Although, these readings are only for your reference and are not intended to diagnose your health conditions.
Carbinox helps you stay healthy by delivering accurate health updates using advanced features. You can get the following health update with a few swipes on your watch.
HEART RATE TRACKING
BLOOD PRESSURE
SLEEPING MODE
OXYGEN MEASURING

Sport Features
The Carbinox Titan Pro is an excellent companion not just for health freaks but also for sports enthusiasts. The high-tech wearable gadget comes with sports monitoring features that support over 20 sports modes, including mountain adventures, walking, running, ball games, cycling, hiking, bike racing, and various other outdoor sports. These sports modes track your steps, calories burned, distance, and mileage. Just park Your Titan Pro with your Dafit app over your smartphone and see the difference!! However, the smartwatch lacks built-in GPS, which might disappoint some users who rely on GPS for accurate tracking.
Along with its Bluetooth calling, the Carbinox Titan Pro smartwatch also supports smart notifications that allow you to stay connected with essential pieces of information. You can receive SMS notifications and read messages directly on the watch. It also supports app notifications, allowing you to stay updated on messages from your social media apps.
Weather Updates and Music Controls
You are planning an outdoor trip and want to check the weather outside? Well, the Titan Pro can help you know the weather conditions in your locality. It provides real-time weather updates right on your wrist so you can plan your camping trips accordingly.
Moreover, Carbinox's music control features let you play, pause, and stop the music when connected to your smartphone. You can pair your smartphone with your Titan Pro and listen to your favorite music on the go.
| | |
| --- | --- |
| Pros | Cons |
| Rugged and Durable Body | Lacks built-in GPS feature |
| Health update features | |
| Sport Monitoring feature | |
| Water resistant and dustproof | |
Where Can I Buy the Carbinox Titan Pro Smartwatch?
The Carbinox Titan Pro Smartwatch is available exclusively on the Carbinox website as well as on amazon.com, with accessories and other Carbinox products. Don't miss out on the opportunity to own a smartwatch that can keep up with your healthy and active lifestyle.
To Summarize
Carbinox has designed yet another rugged smartwatch with unique features that suit the adventure enthusiast. The Carbinox Titan Pro Smartwatch is robust, durable, water resistant, shockproof, dustproof, and fallproof, and displays a range of health and sports features, all at a budget price. Its features support adventurers, daily commuters, and outdoor enthusiasts alike. The highlight is undoubtedly its Bluetooth call support, making it a practical and versatile companion for various activities on the go. The Carbinox watch reviews offer an insight into the smartwatch features for your reference.
The Carbinox Titan Pro Watch Review lists all the exclusive features of this rugged smartwatch, Carbinox's latest smartwatch is a healthy blend of durability, technology, and user-friendly features best for outdoor adventurers.