Video creation has become indispensable for businesses marketing their products and services. A recent study reveals that 72% of people favor video content over text-based marketing. The reason is clear: a well-crafted video engages viewers, delivers content quickly, and communicates ideas effectively. However, video creation can be laborious, time-consuming, and expensive, particularly if you need to hire an experienced editor.
This is where AI video generator tools come in, undertaking the heavy-lifting for you. Currently, numerous AI video generators can transform your scripts into professional videos. In this article, we will reveal our top 5 Best AI video generators choices.
So, stay tuned!
What is an AI Video Generator and How Does It Work?
An AI video generator is an AI-powered tool that converts your inputs into high-quality videos. It employs cutting-edge artificial intelligence and machine learning algorithms to analyze scripts and text content, then utilizes this information to create videos. Over time, these AI-powered video creators improve their performance through self-learning.
These innovative tools analyze inputs such as text scripts or keyword prompts and transform them into visually compelling video content. Initially, you may not achieve industry-standard videos, but the sophistication of AI and repeated testing and trials enable the building of a vast database. This database provides a strong foundation for the program when introduced to general users.
Given that AI learns rapidly, an effective video generator AI tool you acquire today would have already made substantial progress. Consequently, you might not even notice the initial development phase or the ongoing improvements.
Here is the best 5 AI video generators
The AI video generator market is thriving with each passing day.
There are so many AI tools already available to help marketing teams with their everyday challenges and the number of tools is only increasing.
We won't bore you with the specifics of how many AI tools we tested to provide you with our top picks.
Instead, we encourage you to continue reading for a deeper understanding of each of our recommended AI video generator software.
So, without further ado, let's get started!
Pictory AI
Pictory is a renowned AI-powered video generator that aids in creating and editing videos. It's specifically designed for quickly and easily transforming longer content, such as blog posts or extended videos, into short-form video content.
Packed with a variety of features, it can help you create professional-grade videos for any social media platform.
Furthermore, its user-friendly interface ensures that even beginners can become proficient video editors in no time.
So, if you aim to produce top-tier personal or promotional videos without investing significant time or money, Pictory AI is an excellent choice for you.
Key Features
The key features of Pictory are the reasons we placed this AI video generator first on our list.
AI technology identifies "golden nuggets" in your lengthy video content and swiftly produces short-form branded content for social media platforms.
Vast selection of templates tailored to meet broader video requirements.
Continuously improved algorithms ensure the quality of the videos.
Incredibly user-friendly interface that doesn't require any prior experience for navigation.
Includes the automatic transcription for all videos.
Offers a free trial for its Standard pricing tier.
Pricing Structure
Pictory offers a free trial to ensure it's the perfect AI video generator for you. Here are the premium plans offered by the tool:
Standard Tier: $19 per month – permits up to 30 videos per month and up to 10 hours of video transcription.
Premium Tier: $39 per month – allows up to 60 videos per month and up to 20 hours of video transcription.
You can enter the code below at checkout to get 20% off their subscription until you cancel.
Your Promo Code: techinfo24h
Lumen5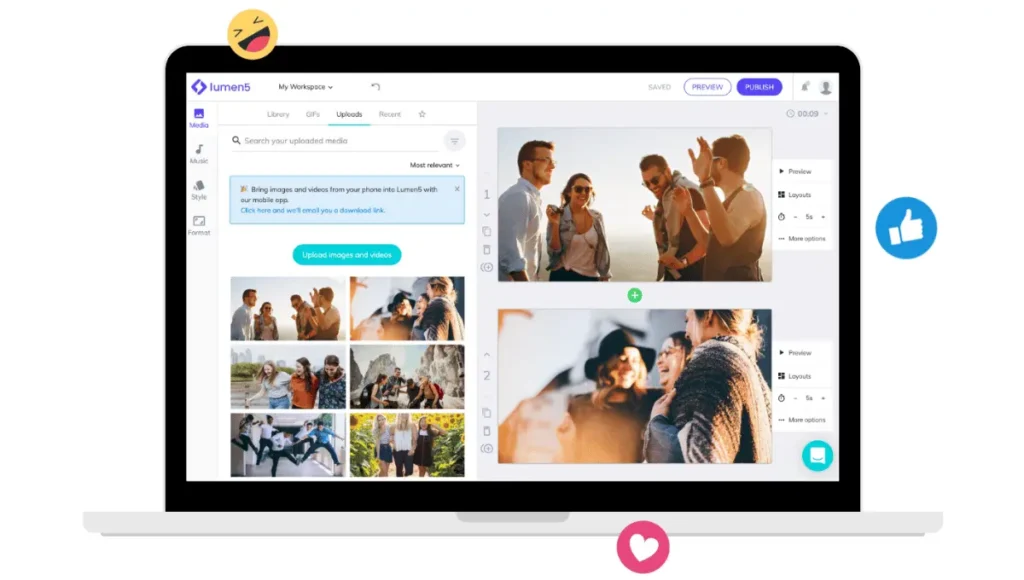 Lumen5 is a standout AI video creation platform perfect for businesses seeking to swiftly and effortlessly churn out video content.
Lumen5 can craft a professional video from the ground up, or rework existing videos into fresh content in a snap.
This innovative tool employs a blend of AI and machine learning algorithms to create videos that mimic the feel of human-crafted content.
Its expansive selection of templates and customization features makes it famous among businesses.
If you're on the hunt for a user-friendly AI video generator capable of delivering first-rate outcomes, Lumen5 deserves your attention.
Key Features
Create videos from scratch or remodel existing videos with ease.
Numerous templates and customization options are available.
Produce convincing videos that reflect human creativity.
Transforms blog posts into AI videos easily.
Operates on the "click and drag" method to incorporate text, images, and videos into your content.
Pricing Structure
Lumen5 offers four pricing tiers:
Community: Complimentary version of the AI video maker software, with watermarked videos and lower quality (720p resolution)
Basic: $19 per month – videos are watermark-free!
Starter: $59 per month – grants access to their stock photos and videos, and offers higher video resolution (1080p)
Professional: $149 per month – comprises brand kits, personalized watermarks, and more!
InVideo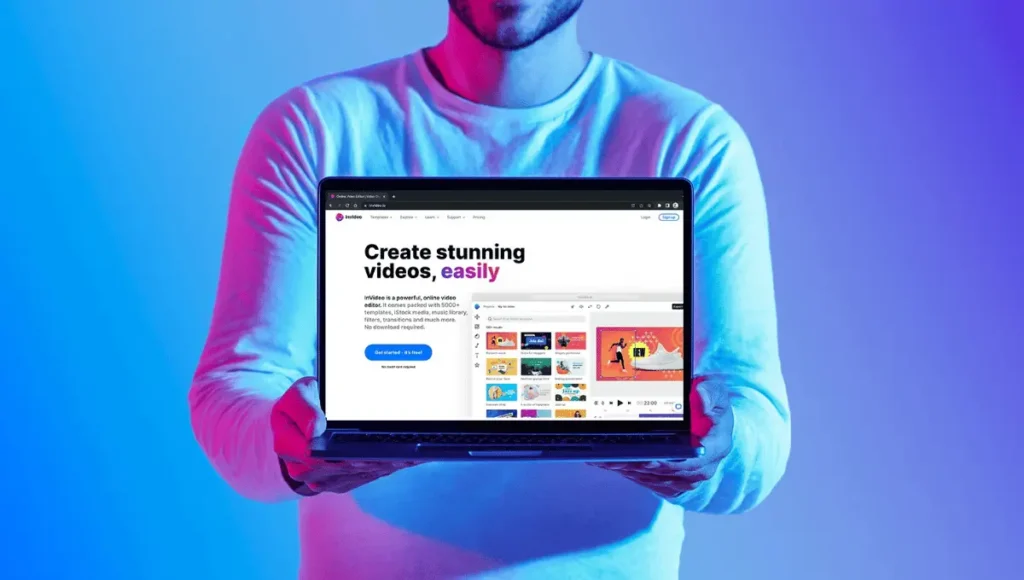 InVideo is a professional-grade AI video generator that is known for creating high-quality marketing, business, and YouTube videos.
InVideo is a cloud-based AI video generator that generates quality videos within minutes while being as hands-on or hands-off as you prefer.
You can easily start off the process by inputting your keywords, script, or article for the text-to-video editor.
InVideo offers an expansive template collection (comprising thousands), organized into varied categories for easy navigation.
You can use any template for your marketing, business, YouTube videos and shorts, social media content, slideshows, and intros and outros, among others.
It offers you 50 themes to guide the AI in crafting the video to your specific aesthetics for a more personalized touch.
Additionally, you'll have access to complimentary iStock footage to further fine-tune your videos if the AI-generated output doesn't fully meet your expectations.
Key Features
Swift text-to-video AI video generator
More than 50 themes to pinpoint your specific style
Add complimentary background music or stock footage
Robust editing tools to enhance your videos
Over 5,000 video templates conveniently divided into multiple categories
Pricing Structure
InVideo provides a free plan and two premium ones at the following rates when billed monthly:
Business: $30
Unlimited: $60
You'll get a 50% discount if you opt for annual billing.
Synths Video
Synths Video is an exceptional video generator tool for converting blog posts into top-tier videos in mere minutes. The platform flaunts a diverse range of human avatars and offers over 40 unique choices.
Synths Video leverages advanced AI technology that simulates natural lip movements in sync with text-based dialogue. The entire procedure is automated end-to-end to eliminate the necessity for any editing expertise on your part.
Using Synths Video is as straightforward as crafting a blog post and uploading it onto the platform. Your written work is then metamorphosed into a video for immediate upload onto social platforms such as YouTube.
Key Features
Transforms blog posts into dynamic videos
Showcases over 40 distinct human avatars
Exhibits naturalistic lip movements
Ensures an entirely automated process from inception to completion
Synths Video Pricing
Synths Video pricing is on the higher side at $399 per month.
DeepBrain AI
DeepBrain AI is an ingenious platform designed to effortlessly build hyper-realistic human avatars tailored to your narrative.
With state-of-the-art technology with a user-friendly design, it is the ultimate solution for content creators striving to animate their narratives in an authentic manner.
Key Features
A comprehensive library featuring 80+ distinctive human avatars.
Compatibility with over 200 different languages.
A free trial option allows you to test its suitability for your needs.
User-friendly and easy-to-navigate interface.
DeepBrain AI Pricing
DeepBrain AI offers a great bargain at $30/month for 10 minutes of video content.
Pro Plan costs $225/month that provides up to 90 minutes of video content.
You can opt for a yearly plan, and enjoy a 20% discount.
Wrapping Up
An AI video generator serves a great role in creating video content to save you tons of time and money that would otherwise pricy and glabrous video creation process.
These tools have become fundamental software for many businesses and marketers to produce so many videos from text-based content in a snap.
Among the sea of AI video content generator tools, we have listed the top 5 picks; Pictory, Lumen5, InVideo, Synths Video, and DeepBrain AI.
If you want to get your hands on the best AI video tool, we recommend you to check out the Pictory AI review and avail free trial before making a purchase!